By Jenny Sandbo, Y.E.T.I. Volunteer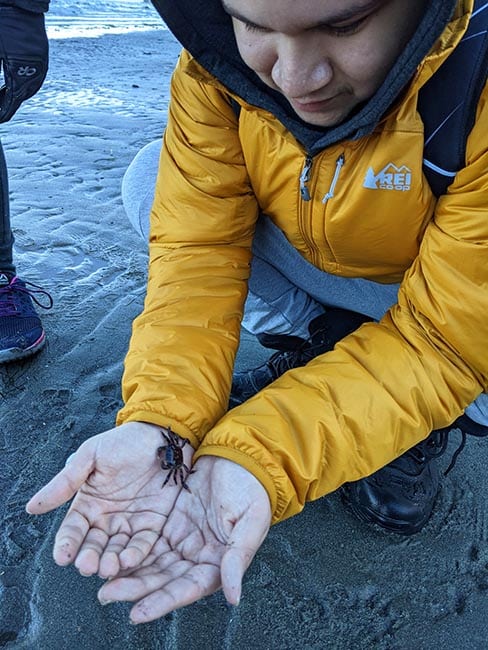 On his first mountain bike adventure, Luis was riding fast when he hit a bump and caught air. Time slowed, his breathe stopped, he could see the future…he was going to wipe out! Bite the dust!! Eat dirt!!!
Luis didn't eat dirt. His tires hit the ground, caught traction, and kept rolling. This was a thrilling moment from his trip to Black Diamond Open Space. He wants to do it again.
Luis is a hard-working junior at Highline High School in Burien. He chills out with Godzilla movies and the video game Rocket League. He is one of the original members of his school's Adventure Club and loves to go fishing and camping with his stepdad.
With high school graduation more than a year away, Luis isn't sure what his next step will be, but he dreams of a lifetime of outdoor adventure. He wants to do it all – hike, fish, backpack, mountain bike, kayak, and snowshoe. He's looking forward to backpacking in Gifford Pinchot Forest National Forest and exploring more trails on a mountain bike.
When asked about his favorite adventure, he had a hard time deciding, so he enthusiastically listed off all the trips he's been on. Highlights include:
When asked what he loves about the outdoors, Luis didn't hesitate… getting away from the lights and noise of the city…meditating on the stars in the night sky…visiting new places… making friends…the speed and roll of riding trails…catching air on a mountain bike!
Youth Experiential Training Institute (Y.E.T.I.) helped connect Luis with outdoor experiences that he couldn't access on his own. Through the generosity of our donors and partners, YETI provides essential gear like boots, snowshoes, and mountain bikes, along with trained Instructors, to get kids into nature safely and have a great time.
To donate, or bring a YETI program to your school, visit goyeti.org.
Join us on Instagram and Facebook @goyeti
View more student stories at The GRIT.