By Jenny Sandbo, Y.E.T.I. Volunteer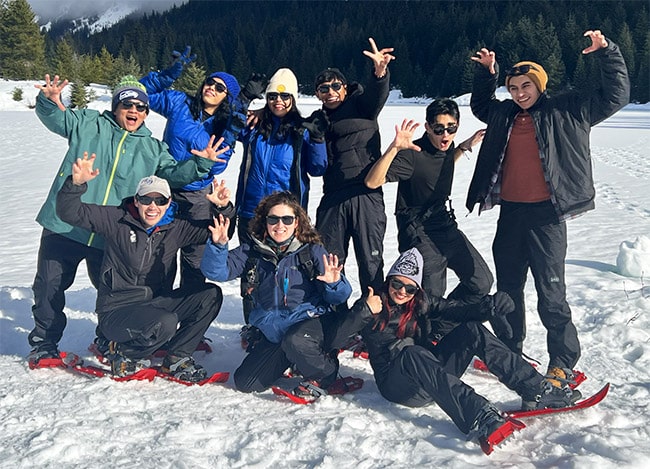 None of the kids had seen snow before. According to their teacher, Ms. Amanda, they approached this new experience with "big smiles and big joy".
Amanda teaches multi-lingual math at Highline High School in Burien, WA. The 9th and 10th graders in her 6th period class share a unique life experience – they all are recent immigrants to the United States. Most moved to Seattle from countries in crisis, like Honduras and Guatemala. None of them have had an easy time. Many kids carry emotional scars that play out as difficult behaviors in the classroom.
Teaching high school math is challenging on a good day. But for Amanda, there were far too many tough days, and she was struggling to connect with her students. She reached out to her friend Sadie, who recently started working as a Program Coordinator with Y.E.T.I. They made a plan – a snowshoe trip to Snoqualmie Pass!
Y.E.T.I. provided everything the students needed to have an amazing day: jackets and snow pants, boots, snowshoes, sunglasses, a trained instructor, water, lunch, and a ride to the mountain.
On the van ride, the kids joked, laughed, and sang songs, giddy with anticipation of experiencing their first snow. When they got to the mountain, they hiked, played, rolled around in the snow, slide on their backs, and had the inevitable end-of-day snowball showdown.
When it was time to load into the van at 3pm, none of the students wanted to leave.
It was a wonderful day for Amanda, too. She made personal connections with her students while introducing them to the incredible beauty of their new home in Washington. She hopes it will spark a desire for them to explore the outdoors on their own.
When asked what kind of adventure she would like to do with her students next, Amanda said she is looking forward to kayaking and spring hikes – Mt Rainier is at the top of her list.
Youth Experiential Training Institute (Y.E.T.I.) helped connect Amanda's math students with outdoor experiences they couldn't access on their own. Through the generosity of our donors and partners, YETI provides essential gear like boots, snowshoes, and mountain bikes, along with trained instructors, to get kids into nature equitably, safely, and have a great time.
To donate, or bring a YETI program to your school, visit goyeti.org.
Join us on Instagram and Facebook @goyeti
View more student stories at The GRIT.